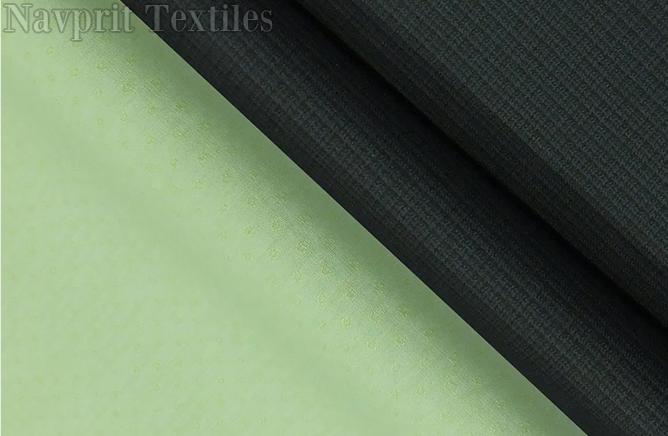 There is no fabric as luxurious and adored as silk. However, its significance to the textile sector has grown recently due to the current trend of customers toward natural products. This has led to an increase in demand for natural fibers, particularly silk, which combines the best features of comfort and wearability with an eco-friendly nature. The queen of fibers is a natural protein fiber including fibroin and sericin which blends with water to give an extra-ordinary glass-finish fiber with threads that are triangular in cross-section. Silk fabric is ideal for the fashion and other types of industries as well due to its utility in making wedding lehengas, blouses, sarees, gowns, neckties along with some household items such as bedsheets, drapes, upholstery, pillow covers, wall hangings, and many more things to give the Royal look to your place.
Types of Silk Fabric-
Mulberry Silk- This is one of the best types of silk fabric because it is much stronger, smoother, and more uniformly colored than any other silk type. The Majority of the market is flooded with mulberry silk fabric.
Eri Silk- This silk is majorly confined to the north-eastern region and the most unique thing about it is that the fiber is not reeled as the cocoon is open-ended and the worm is extracted.
Tasar Silk- This silk comes from the silk moths that live in wild forests and the best thing about this fabric is its natural goldish copper color which is valued by people around the world.
Muga Silk- It is one of the rarest and most sought-after silk fabrics in the world and is only produced in Assam. Due to its honey-toned color, it is named Muga as in Assamese Muga means yellow.
Timeless characteristics of Silk Fabric which make it extremely popular-
Breathability- It is one of the lightweight and breathable fabrics in the industry which lowers the risk of overheating when you are going out for a day especially in summers by keeping you cool.
Natural Insulation- Silk is one of the most insulating natural fibers which means that it is great at keeping you warm in winters.
Rapid dry- Silk fabric is known for fast drying which makes it easy for you to manage your laundry in day-to-day life.
Super shiny and Soft- Silk is amazing on your skin not only because it is beautiful but it is smoother to touch and shinier to your eyes. There is no other fabric in the world that can be compared to silk's luxurious appearance and feel.
Indians have been using silk for clothing and even for home decor for many centuries. Certain parts of India have traditional customs, especially in southern India where ladies wear silk sarees on auspicious occasions and weddings as silk is believed as a pure fabric.
India is the second-largest producer of silk fabric in the world alongside the second-largest consumer also, with several manufacturers of silk fabric producing states and suppliers all over India. Silk fabric is available in different vibrant colors as it easily absorbs dyes of any shades to fulfill the demand of the customer with renowned Silk Fabric Supplier in Delhi. You need to choose the best place from where you can select the silk fabric of your choice.
The popularity of suppliers of Silk Fabric in Delhi is due to the following factors-
-They are associated with the primary vendors in the industry that helps them in getting the finest quality of silk fabric.
-They have the support of separate teams such as procuring agents, quality controllers, packaging experts, warehouse managers, and sales & marketing personnel. All these teams work closely towards the success of the company.
-They have a wonderful range of different types of silk fabric in various colors.
-They ensure timely delivery of the product to the customers by associating with a reputed logistics team.
-They offer luxurious silk fabric at competitive prices prevailing in the market.
-They provide easy payment options to the clients to promote ease of doing business.
There is nothing that can beat the feeling of silk against silk whether you wear a saree, dress, or scarf or in the silk sheets on your bed. With its touch, you might feel it is fragile but silk fabric is genuinely very strong. But remember to take proper care of it while storing and washing by not using any harsh detergents or bleach.