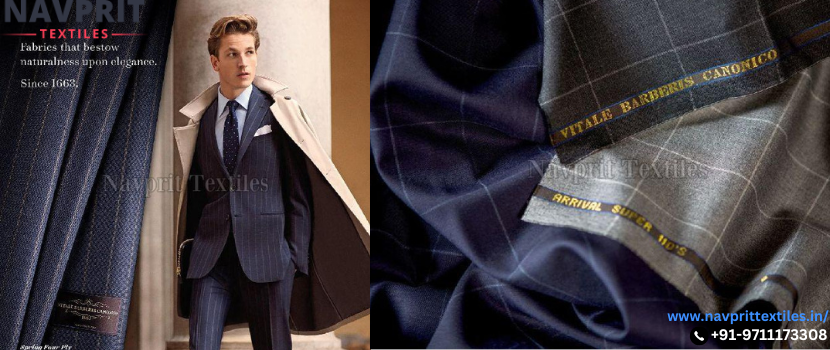 Have a big event coming up where you need to look your best? Perhaps you have outgrown your old glad rags and are considering investing in something new. People frequently forego purchasing custom suits in favour of what they believe to be the faster or simpler solution.That's not always the case, which is the problem. Inquiring as to why? Discover the advantages of having custom-made suits in the following paragraphs, and you might find yourself never purchasing clothing from a store again. You will get a variety of
Vitale Barberis Canonico Suiting in Delhi
to choose from.
The Perfect Fit
Although you may have previously been able to locate suits in many different stores that fit you, the fit of an off-the-rack suit cannot compare to that of a suit that is custom-made with your exact measurements in mind.There won't be any loose shoulders or arms, which make a suit feel a little tighter or odd. Investing in the fine craftsmanship of a made-to-measure suit is the only way to get the ideal fit. The greatest features will be highlighted, and the tailor can disguise any qualities you don't want to draw attention to.Your trouser legs will be fitted and hemmed to create the look you want and to create a style that is perfectly tailored to your body type. The ideal fit for you is created by the proper length and cut working together.The impact the perfect fit will have on your life can astound you as well. Your form will be complemented by the lines and shape, giving you a relaxed and assured sensation. Additionally, a well-fitted suit makes it simpler to move correctly.A professional tailor will know what looks good on you and have you looking your finest in no time, regardless of your confidence level or level of satisfaction with your physical appearance.
Everything You Could Want and in Less Time
Finding the ideal suit might be time-consuming if you have to browse department store after department store, depending on your needs and personal preferences.In the time it takes for you to get your bespoke suit fitted, a professional tailor can figure out exactly what you want. It takes no time at all to schedule an appointment, and a fitting also doesn't need to take very long. The lining material and the precise cut are both configurable.You can pick up your suit in a few days or a week since it won't take too long to make. You may get all of this information without wasting time at numerous stores.
Choose from Quality Materials
If you choose custom suits, you can choose from a wide selection of only the highest quality fabrics and choose your very preferred ones. The majority of the time, off-the-rail outfits are manufactured from low-quality materials.
Vitale Barberis Canonico Suiting
is the right one to choose. The craftsmanship is just lacking where they are produced using subpar manufacturing processes to keep costs down for the general audience. Custom suit tailors are aware that their high level of craftsmanship contributes to the appeal of their services.They will be well-versed in the materials they have access to as well as what will be most appealing to your figure in terms of colour and texture. When you work with a respected tailor, you can be sure that they'll use high-quality materials to provide you with the best value for your money.You know that they must have a solid and reliable relationship with their fabric suppliers and textile manufacturers because of their expert knowledge of their line of work.There are plenty of other points as well to consider. Choose the right Vitale Barberis Canonico Suiting exporters and get quality fabrics to make your custom suit.
This entry was posted on May, 26, 2023 at 14 : 29 pm and is filed under Fabric. You can follow any responses to this entry through the RSS 2.0 feed. You can leave a response from your own site.