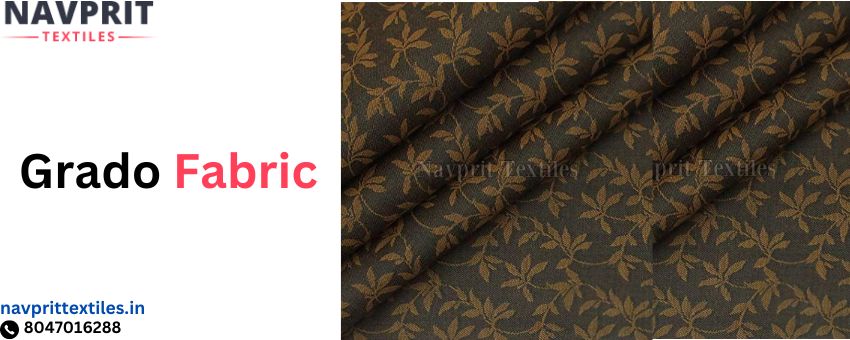 Delhi, the vibrant capital of India, has always been associated with flair and fashion. The city's fashion scene is a colourful fusion of culture, creativity, and invention, ranging from conventional ethnic dress to cutting-edge couture.
The existence of Grado Fabric Supplier Delhi is an important factor that frequently goes overlooked but significantly influences this landscape. These companies supply the premium textiles that serve as the basis for each garment, giving the fashion industry its vitality. Continue reading to know more about the crucial part Grado fabric suppliers in Delhi play in the vibrant fashion scene.
Rich Tradition and Heritage
Grado, a reputable company recognised for its high-end textiles, is a key player in Delhi's fashion history. Grado has a tradition that spans more than eight decades and has continuously produced textiles that radiate class, refinement, and grace. The brand's dedication to excellence fits Delhi's taste in elegant, classic clothing wonderfully.
Diversity and Versatility
The sheer variety and flexibility of Grado textiles is one of its most distinctive qualities. Grado fabric suppliers in Delhi provide a variety of choices, whether it be silks, cotton, linens, or mixes, to satisfy any designer's vision. Due to this variability, fashion designers may experiment with a wide range of textures, patterns, and colours, leading to the development of distinctive and alluring designs.
Promoting Creativity
In the world of fashion, there are no restrictions on creativity. By giving designers a selection of wonderful textiles to work with, Grado fabric suppliers play a significant part in fostering this creativity. Grado's premium materials not only improve the appearance of the finished product but also provide designers with the freedom to experiment and push the limits of conventional design.
Strengthening Craftsmanship
The fashion business in Delhi is recognised for its flawless design and meticulous attention to detail. Grado textiles, which are renowned for their high calibre, raise the level of skill to new heights. Be it exquisitely made lehengas, hand-embroidered sarees, or well-cut suits, these textiles provide a sense of richness and extravagance that appeals to Delhi's affluent audience.
Adapting to Changing Trends
Trends in fashion change quickly since the industry is fundamentally dynamic. Grado Fabric Wholesaler Delhi is aware of this ongoing evolution and adjusts by providing textiles that go along with shifting consumer preferences. Grado makes sure that designers have access to textiles that are not only of the greatest quality but also in keeping with the current fashions by keeping up with the most recent fashion trends.
Collaborative Partnerships
The core of the partnership between fashion designers and Grado Fabric Retailer Delhi is cooperation. These vendors work closely with designers, giving them information on the newest fabric developments and assisting them in locating fabrics that complement their artistic ambitions. Within the fashion business, this collaborative approach promotes a culture of development and innovation.
Establishing Industry Standards
Grado's reputation for high quality has become the industry standard for fabric. Grado Fabric Retailer Delhi supports its continued status as an international fashion centre by constantly producing textiles that meet and beyond expectations.
Conclusion
Grado Fabric Supplier Delhi is the needle that connects innovation, tradition, and creativity in the complex fashion scene. Their dedication to providing premium, varied, and adaptable textiles enables fashion designers to bring their thoughts to life. Grado fabric wholesalers will surely continue to play a crucial role in Delhi's vibrant fashion scene as the fashion industry develops.