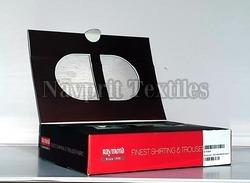 Clothing is one of the most important parts of an individual's outlook and appearance. The kind of clothes a person wears depicts lots of facts about him which includes his status, his lifestyle, his preferences, nowadays even his orientation. Since the beginning of time, there have been different attires for men and women. A man can always be imagined wearing a set of Pant-Shirt as this being the most common attire worn by men throughout the world. There was a time when men's clothing was restricted to certain colors and designs. The latest trends of men's wear have given a new definition to men's wear. For instance, Pant Shirt Combos have evolved so much with time. Now there are endless colors and patterns available in Pant Shirt Combo Fabric that one would wonder which one to choose.

Gone are the times when Pant Shirt Combo Fabric was available in greys, blacks, and blues. One could find fancy combos that too in every price range in the market. Indian men can also be mostly seen in this attire. Though ready to wear pants and shirts are easily available in markets but there is no comparison of the fitting of a custom-made pant shirt combo that fits your body well and is also comfortable, hence there is a lot of demand for Pant Shirt Combo Fabric in India. With the rising demand, there is no dearth of Pant Shirt Combo Fabric Supplier in India as well. These suppliers have a gamut of Pant Shirt Combo Fabric that offers different patterns such as plain, stripes, check, lines, regular wear, formal wear, etc. for their customers to choose from.

Normally, a set of Pant Shirt Combo Fabric a pant piece and shirt piece that are cherry-picked and cotton blended. These combos are exclusive in itself as these kinds of fabrics are uncommon in the market. Ideal for office, party or casual wear. Colour is fast and the fabric is suitable for a normal wash. Fabrics are made of cotton and polyester. These Pant Shirt combos are a pre-matched combo of pant and shirt piece with a length of standard 1.2m and 2.25m size respectively. As the Pant Shirt Combo Fabric is available in a different price range that suits every pocket with suitable packings, they serve perfectly for gifting purposes.

Pant Shirt Combo Fabric Supplier in India make sure that each combo has a distinctive color and design of pant and shirt piece. Even the facility of gift packing in which each box contains different color and patterns of both pant and shirt. The Supplier also offers customization of the client's own brand. The suppliers make sure that the fabric of the combo set flawlessly and packed properly top ascertain that the fabric should not get spoiled in the delivery process. These suppliers also offer door-step deliveries for the convenience of their clients.

Subsequently, the 'combining' fact is that Pant Shirt Combo Fabric Supplier in India has earned a market recognition by supplying quality pant shirts combos which are apt for self-use as well as prove to be the best material for gifting.
This entry was posted on February, 26, 2020 at 11 : 56 am and is filed under Fabric. You can follow any responses to this entry through the RSS 2.0 feed. You can leave a response from your own site.