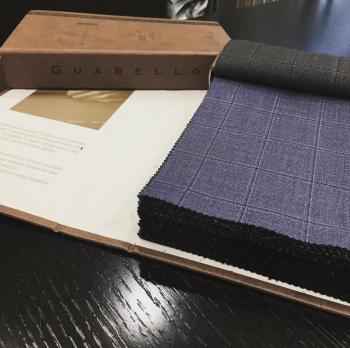 Generally, suiting fabrics can be made of silk, cotton, linen and a blend of different fibers. However, few compare the premium quality, durability, comfort, and attention to detail as Italian suiting fabrics. While other fabrics consist of synthetic, man-made textiles, Italian suiting fabrics do not. Instead, they are made of natural textiles like cotton, silk, wool, and linen, which are carefully woven to create top-tier suits. If you do not already own a suit made from Italian fabric, you should consider investing in one for the below-mentioned reasons-
• Come With Unique Weaving Patterns:
One of the features that you will find in Italian suiting fabrics is a unique weaving pattern. Over the years, textile manufacturers in Italy and the surrounding Mediterranean region have been introducing new ways to weave fabrics into garments. When compared to American-made fabrics and English- made fabrics, the weaving patterns of Italian-made fabrics including Italian suiting fabrics are absolutely unique and are not found elsewhere. One can find best-in-class Italian fabrics with companies dealing with Italian suiting fabric in Delhi.
• Available With Exceptional Softness:
One can find suits made of Italian fabric are softer and are more comfortable to wear than suits made of other fabrics. For instance, Angora wool is recognized as one of the softest fabrics in all over the world. Originally made in Italy, this fabric comes from the undercoat of the Angora rabbit. Suits made of Italian Angora wool are rarely available in stores, but you can still find them sold at selected vendors of Italian suiting fabric in Delhi.
• There Is Limited Availability:
It is important to note that only a limited number of suits can be stitched from each Italian fabric design. It means that there is limited availability of suits made of Italian suiting fabric. The shortage of Italian fabric limits the number of suits that manufacturing companies can produce. So, hurry up! And get the opportunity to own one of the finest men's suits made of Italian fabric.
• Available At Affordable Prices:
When shopping for a suit made of Italian fabric, you will probably find some stores selling them for higher prices. The shortage of Italian suiting fabrics naturally increases their value. But, suppliers dealing with Italian suiting fabric in Delhi offer these fabrics at very budget-friendly rates.
• Come With Superior Durability:
Italian suiting fabrics are known for their superior durability and strength. It is very frustrating when you get a new suit, and find it damaged just within a few months or a week. Normally, damages are caused due to poor craftsmanship. But you can avoid this by choosing a high-quality, well-crafted suit, made of Italian suiting fabric. The exceptional weaving construction combined with the premium quality fabric itself allows for a more durable and stronger suit that is less likely to get damaged. Italian fabric suits can last for years, all while offering the optimum level of performance.
• Known For Aesthetics:
We cannot discuss the benefits of wearing a suit made of Italian fabric without mentioning its aesthetics. Italian fabric suits are handcrafted by experienced artisans who lay emphasis on aesthetics and pay attention to every detail. For men looking to create a stylish look, a suit made of Italian fabric is the best choice for this very reason. With its outstanding construction and unmatched quality, it will enhance your appearance in every possible way.